The Latest Expert Forecasts for Seattle Home Prices in 2023
Amid concerns of a potential crash in home prices this year, data and expert analysis suggest that prices are not spiraling downward and are expected to end the year on a positive note.
Despite predictions of a significant drop in home prices, the limited supply of homes for sale, coupled with high demand from buyers, has prevented the anticipated decline of 5%, 10%, or even 20% this year.
The latest 2023 forecast from various experts confirms that this year has not been a disappointment for home prices.
Most Experts Project Home Prices Will Net Positive this Year
Industry experts generally agree that there will be a positive appreciation in home prices for the year 2023. The graph below shows the latest 2023 year-end forecasts from six different organizations: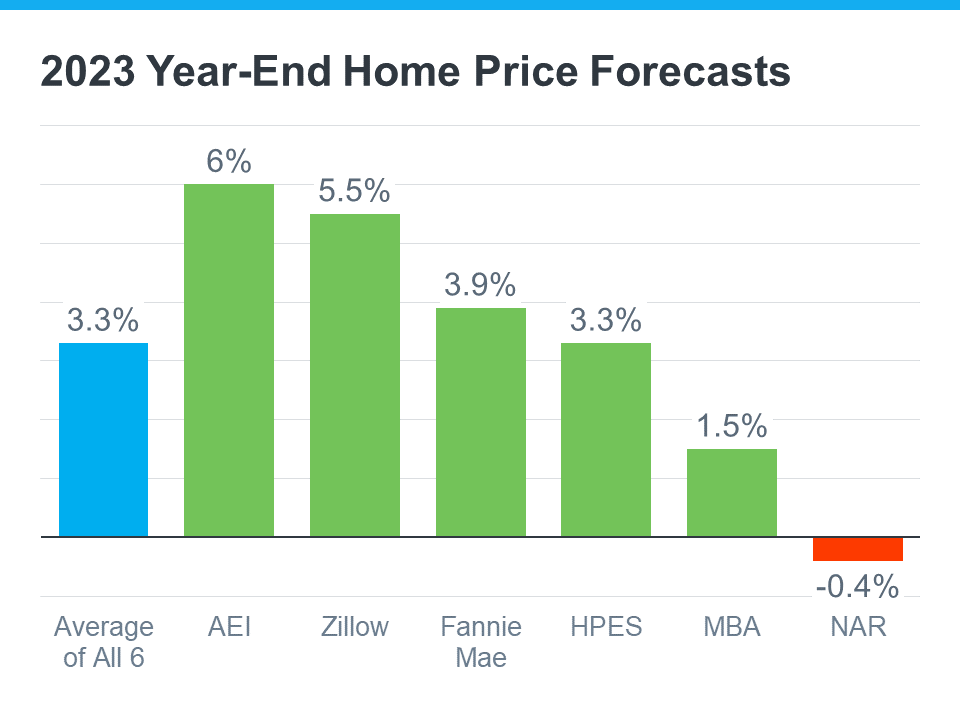 As you can see, all but one project nationally prices will net positive this year. That's significant because it shows the majority are optimistic about home price growth.
In case you remain concerned about the slight decline indicated by the National Association of Realtors, it is crucial to note that this projection does not signify the significant crash that was speculated. Additionally, when averaging all six forecasts, the consensus points toward an anticipated positive growth of approximately 3.3% for the year.
If these 6 organizations aren't enough to convince you that prices won't come tumbling down, here's something else to consider. One of the six forecasts represented in the graph is the Home Price Expectation Survey (HPES) from Pulsenomics. It combines survey results from over 100 economists, investment strategists, and housing market analysts. The HPES found that the average from all 100 of those experts is 3.3% price growth for the year.
Observing the graph, you'll find that the blue average aligns with the 3.3% projection discussed earlier. Despite potential variations in individual forecasts, both the Home Price Expectation Survey (HPES) and the average of the forecasts convey a consistent message. Notably, a 3.3% appreciation signifies a fundamentally distinct scenario compared to prices experiencing a decline.
Bottom Line
For those concerned about a potential decline in home prices this year, it is reassuring to note that based on the average of the most recent forecasts, home prices are expected to exhibit positive growth. If you have any inquiries regarding local home price trends, please feel free to reach out for further discussion and assistance.