The Perks of Selling Your Seattle House When Inventory Is Low
Selling your house often involves navigating the balance between current market dynamics and personal requirements, necessitating careful consideration of both external market factors and individual priorities.
The limited number of homes available for sale at present could potentially be advantageous for you as a seller. Understanding the current inventory situation is crucial as it highlights the high demand and low supply, which can make your property more desirable to prospective buyers.
The Supply of Homes for Sale Is Far Below the Norm
In the current housing market, the scarcity of available homes for sale has created a situation where demand outweighs supply. This scarcity has increased the desirability of the available properties, leading to a competitive market where buyers may be inclined to act swiftly to secure a property.
The data from Realtor.com illustrates the significant decrease in active home listings in September of this year compared to the more typical figures in the market. This substantial reduction in inventory underlines the current shortage of available homes for sale, emphasizing the competitive nature of the housing market.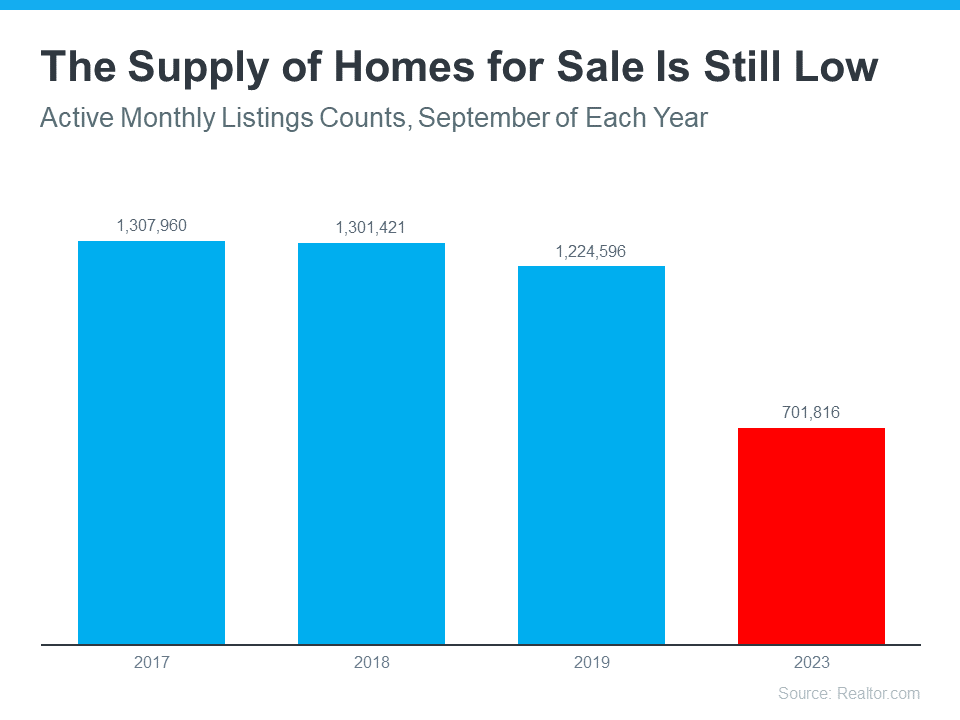 As you can see in the graph, if you look at the last normal years for the market (shown in the blue bars) versus the latest numbers for this year (shown in the red bar), it's clear inventory is still far lower than the norm.
What That Means for You
Due to the limited housing inventory, buyers are facing a reduced selection of available properties compared to previous years. This scarcity in the housing market has created favorable conditions for sellers, as properly priced homes are selling quickly and often receiving multiple offers from enthusiastic buyers looking to secure a property. Based on the latest data from the Confidence Index from the National Association of Realtors (NAR):
69% of homes sold in less than a month.
2.6 offers: the average number of offers on recently sold homes.
An article from Realtor.com also explains how the limited number of houses for sale benefits you if you're selling:
". . . homes spent two weeks less on the market this past month than they did in the average September from 2017 to 2019 . . . as still-limited supply spurs homebuyers to act quickly . . ."
Bottom Line
Given the current shortage of homes for sale, buyers are actively seeking more options, making your house potentially highly desirable to prospective buyers. Connecting to list your house at an appropriate price for the present market conditions could result in a quick sale and the possibility of receiving multiple offers, thus maximizing your selling potential.