Seattle Buyer Traffic Is Still Stronger than the Norm
If you've been hesitating to sell your house due to concerns about mortgage rates, rest assured that there are still plenty of active buyers in the market. Recent data confirms that people are buying homes even in the current mortgage rate environment. Don't miss out on the opportunity—now might be the right time to make your move!
The ShowingTime Showing Index serves as a gauge of buyer activity when it comes to home tours. The graph below utilizes the most recent data at our disposal and compares it to the same month in the last normal years. This comparison underscores the continued vigor of today's homebuyers and their active engagement in the market.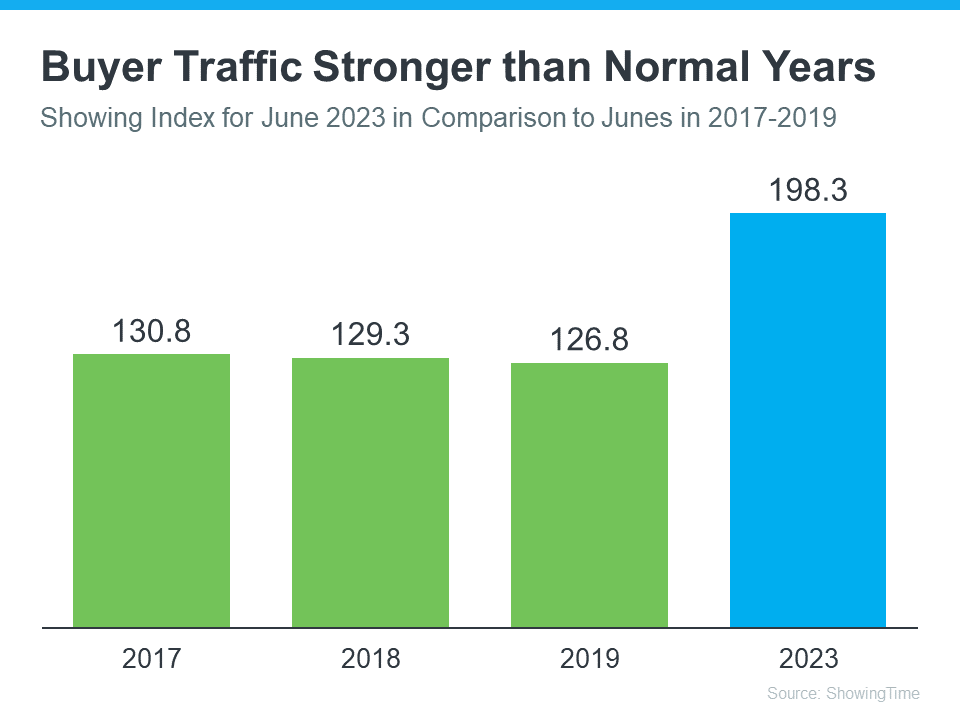 Indeed, the data for June 2023, when compared to the usual trends for this time of year in the housing market, clearly illustrates that buyers remain highly active. In fact, they are displaying a level of activity that surpasses the typical norms, highlighting the robust demand in the current real estate landscape.
If you're wondering how this could possibly be true, it's because buyers are getting used to higher mortgage rates and accepting them as the new reality. As Danielle Hale, Chief Economist, Realtor.com, explains:
"Interest rate hikes continue to further cut into buyers' purchasing power, although they appear to have adapted to the higher mortgage rate environment . . ."
It's simple. Buyers will always need to buy, and those who can afford to move at today's rates are going to do so.
The Key Takeaway for You
It's true that the housing market has seen a shift from the frenetic pace of the past couple of years, but it's far from being at a standstill. In fact, buyer traffic remains robust in the current market. Despite prevailing mortgage rates, many buyers are actively pursuing their homebuying goals. With such a clear and active market for houses, there's no need to delay your own move. This could be an opportune time to put your house on the market and make your next move with confidence.
Bottom Line
Absolutely, don't delay your plans due to concerns about finding a buyer. The current market is proving to be highly active, with more engaged buyers than usual. Let's connect and start preparing your house for sale, ensuring it makes a fantastic first impression on these eager buyers. Your real estate goals are well within reach!