Life-Changing Events That Move the Seattle Housing Market
Life is a dynamic journey marked by unexpected events such as welcoming new family members, retiring, or experiencing an empty nest. In response to these changes, the common theme is the necessity to consider buying or selling a house, as moving becomes a key element in navigating life-altering transitions.
Reasons People Still Need To Move Today
According to the National Association of Realtors (NAR) there have been a lot of this type of milestone or life change over the last two years (see graph below):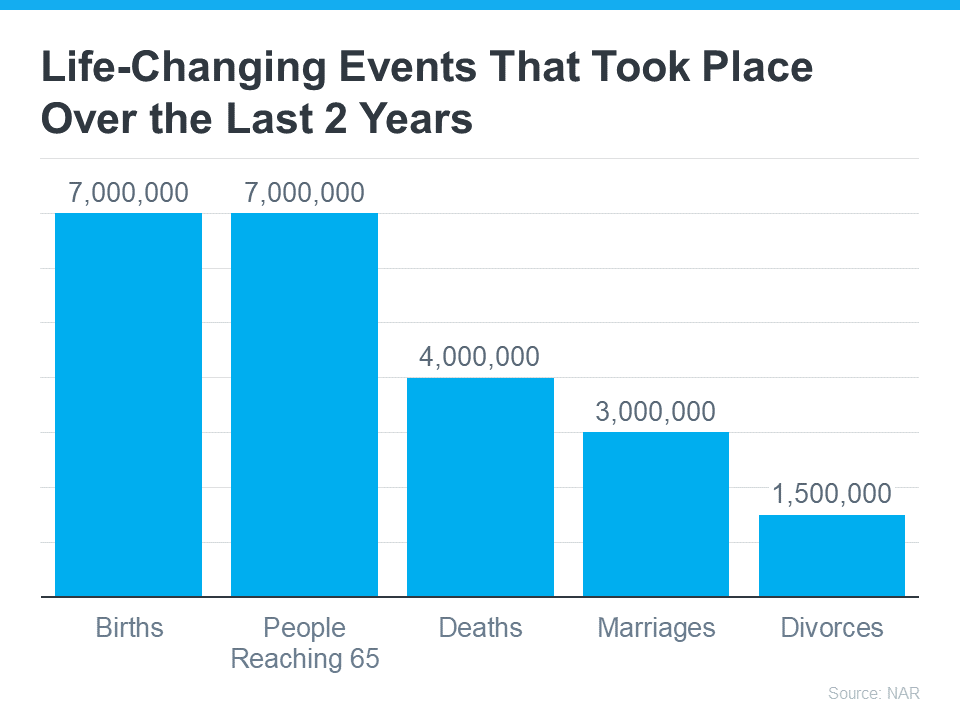 Despite the ongoing affordability challenges stemming from higher mortgage rates and increasing home prices, significant life changes will persistently influence people's decisions to move in the future. The enduring impact of these life events remains a driving force, shaping individuals' choices in the face of current economic challenges in the housing market.
As Claire Trapasso, Executive News Editor at Realtor.com, says:
"Because high mortgage rates, elevated home prices, and stubbornly low inventory make today's housing market particularly challenging, many of today's buyers are motivated by life changes, such as growing families, supporting elderly parents or grown children, or accommodating professional needs. . ."
Lean On a Real Estate Professional for Help
Whether you're embarking on the journey to find a new home or gearing up to sell your current one, you don't have to navigate the process alone. A real estate agent, with their expertise, becomes an invaluable partner, aiding in a seamless transition through significant moments in your life. Here are a few examples of how they can assist you.
When Buying a Home
Welcoming a new addition and requiring more space may make finding a new home a top priority. Despite challenges posed by higher home prices and mortgage rates, addressing these changing needs becomes essential, even in the current market conditions. Navigating these challenges may require creative solutions to ensure your evolving housing requirements are met.
A skilled real estate agent can provide invaluable assistance. Leveraging their expertise and knowledge of the local housing market, they can save you significant time and stress. By taking the time to understand your specific needs, budget, and preferences, an agent can streamline your search, presenting you with suitable options that align with your requirements.
When Selling a House
If you're retiring or experiencing a separation or divorce, your primary focus may be maximizing the return on your investment when selling your house. This strategic approach aims to facilitate a smooth transition into a new living arrangement that better suits your future needs and circumstances. In such situations, a real estate agent's expertise becomes particularly valuable in assessing your home's market value, suggesting improvements, and developing a strategic marketing plan to ensure a favorable outcome during the selling process.
In situations like retirement, separation, or divorce, the expertise of a real estate agent shines. They excel in accurately assessing your home's market value, offering suggestions for improvements to enhance its appeal, and developing a strategic marketing plan. The negotiation skills of a real estate agent become a significant asset, ensuring you receive a fair price for your house. This comprehensive support provides the confidence and peace of mind needed to smoothly transition to the next chapter of your life.
No matter your situation, lean on a trusted professional for help as you buy or sell a home.
Bottom Line
If recent life-changing events have prompted the desire or necessity to move, let's connect. Seeking the assistance of a real estate professional can help you navigate the complexities of buying or selling a home during these significant transitions. Connecting with an expert can provide the guidance and support needed to make informed decisions and ensure a smoother transition to the next phase of your life.