There's Only Half the Inventory of a Normal Seattle Housing Market Today
Wondering if it still makes sense to sell your house right now? The short answer is, yes. Especially if you consider how few homes there are for sale today.
The scarcity of available homes can work in your favor when selling. The graph from Calculated Risk illustrates the extent of this low inventory. While you might be aware that inventory is limited, this graph emphasizes just how significant the shortage is and why it's advantageous for sellers.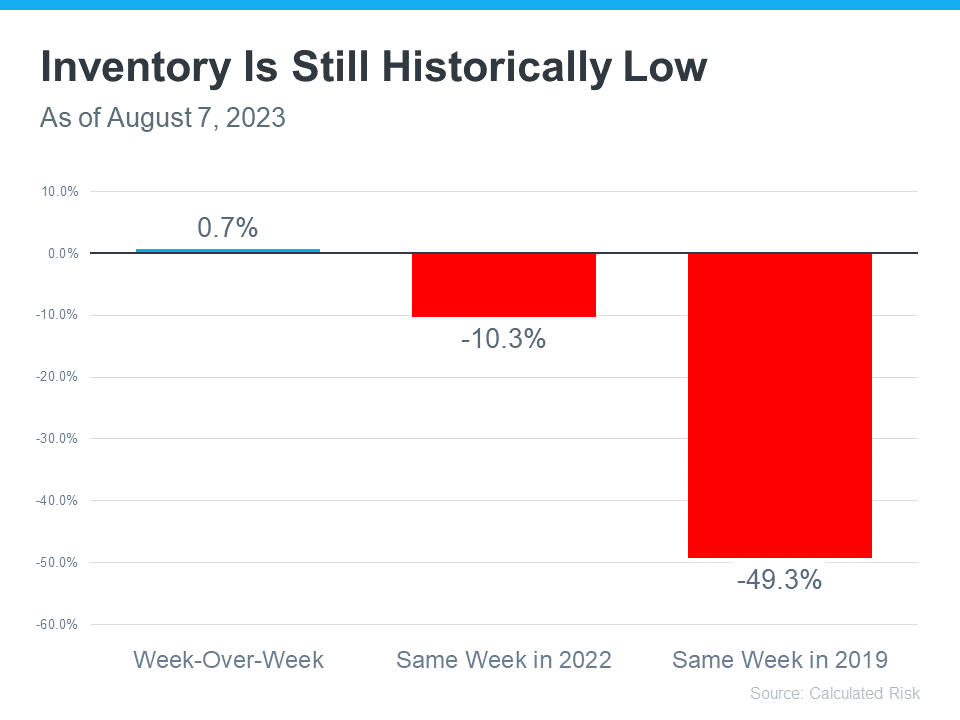 The graph demonstrates that although housing inventory has experienced a slight weekly growth (indicated by the blue bar), the overall supply remains low (indicated by the red bars). When compared to the same week of the previous year, the supply has decreased by approximately 10%, even though it was already considered low at that point. Moreover, upon examining a longer timeframe, it becomes evident that the inventory has decreased even more significantly over time. This data highlights the ongoing shortage of available homes for sale.
To assess the deviation from a typical inventory level today, let's draw a comparison with 2019, which was the last year considered "normal" in the market. When examining the corresponding week of this year and comparing it to the same week in 2019, the supply of homes for sale is roughly 50% lower now. This indicates that the current inventory is only half of what would typically be available for sale during a normal market year.
The main point to understand is that we are currently far from achieving a balanced market. The imbalance between supply and demand is evident. The demand for homes is substantial due to the scarcity of available properties. This scarcity is emphasized by Lawrence Yun, Chief Economist at the National Association of Realtors (NAR), who explains that the shortage of homes is driving the strong demand. The low supply of homes compared to the high demand is a key factor shaping the current market dynamics.
"There are simply not enough homes for sale. The market can easily absorb a doubling of inventory."
So, if you want to list your house, know that there's only about half the inventory there'd usually be in a more normal year. That means your house will be in the spotlight if you sell now and you may see multiple offers and a fast home sale.
Bottom Line
Given that the current number of homes for sale is approximately half of what would be typical in a more normal year, you can feel confident that there is a significant demand for your house. If you're considering selling, it's a prime opportunity to take advantage of the high demand and low inventory. Connecting with professionals now will enable your house to stand out among the limited options available on the market. This unique situation can work to your advantage in achieving a successful and timely sale.