Pricing Your Seattle House Right Still Matters Today
In the current real estate market, though not as frenzied as the 'unicorn' years, well-priced homes are still selling rapidly and receiving multiple offers. This is primarily due to the low inventory of homes for sale. According to data from the National Association of Realtors (NAR), 76% of homes were sold within a month, and on average, homes received 3.5 offers in June.
To ensure you can take advantage of such benefits, it's essential to enlist the help of a real estate agent. An agent possesses the expertise required to determine the appropriate asking price for your house. The stakes are high if the price is not accurate for the current market value, and relying on a skilled agent can make all the difference in achieving successful results.
The price you set for your house sends a message to potential buyers.
Setting the right asking price for your home is crucial. If you price it too low, potential buyers might question its condition or assume there are issues with it. Undervaluing your house could also mean leaving money on the table, affecting your future buying power.
On the other hand, if you price it too high, you risk discouraging buyers from showing interest. A price drop later may be needed, but this can raise concerns among buyers, leading them to question why the price was reduced and what it indicates about the property. Striking the right balance is essential to attract the right buyers and achieve a successful sale.
A recent article from NerdWallet sums it up like this:
"Your house's market debut is your first chance to attract a buyer and it's important to get the pricing right. If your home is overpriced, you run the risk of buyers not seeing the listing . . . But price your house too low and you could end up leaving some serious money on the table. A bargain-basement price could also turn some buyers away, as they may wonder if there are any underlying problems with the house."
Think of pricing your home as a target. Your goal is to aim directly for the center – not too high, not too low, but right at market value.
Pricing your house fairly based on market conditions increases the chance you'll have more buyers who are interested in purchasing it. That makes it more likely you'll see multiple offers too. Plus, when homes are priced right, they still tend to sell quickly.
To get a high-level look into the potential downsides of over or underpricing your house and the perks that come with pricing it at market value, see the chart below: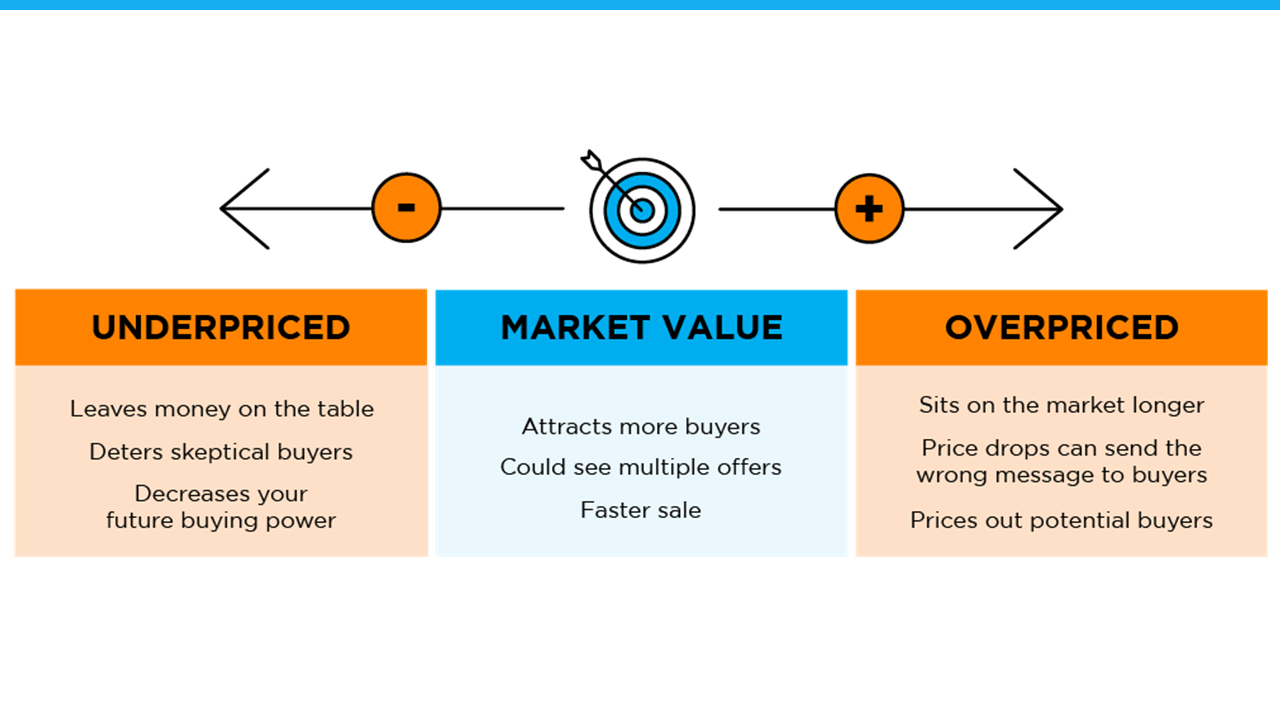 Lean on a Professional's Expertise to Price Your House Right
So why is an agent essential in finding the right price? Your local agent has the skill and the insight necessary to find the market value of your home. They'll use their expertise to determine a realistic listing price by assessing:
The prices of recently sold homes
The current market conditions
The size and condition of your house
The location of your house
Bottom Line
Pricing your house at market value is critical, so don't rely on guesswork. Let's connect to make sure your house is priced right for today's market.